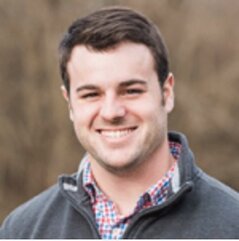 Seth is a native Hoosier, growing up west of Bloomington in Linton, IN. Even though Seth grew up in church and came from a family with a deep Christian faith, it wasn't until he attended college in the fall of 2007 when he finally understood and trusted in the gospel. It was at IUPUI that Seth also met his wife, Kelie, in the fall of 2007. After college, Seth felt a strong call to ministry, and went on staff with Campus Outreach to help plant a new ministry on the campus of Ohio State University. After getting married in 2015 (it took a while to convince Kelie to date him), Seth and Kelie transitioned off of staff with Campus Outreach and began looking into seminary and pastoral ministry. That journey brought Seth and Kelie to Bloomington, where Seth now attends seminary, teaches middle school Social Studies at Tri North Middle School, and serves as a Ruling Elder at Hope. Seth and Kelie have 2 daughters: Eloise and Grace.
Seth enjoys going on family runs on the many trails in Bloomington, hiking, watching football, and eating McDonalds.
You can contact Seth at seth@hopebtown.org.